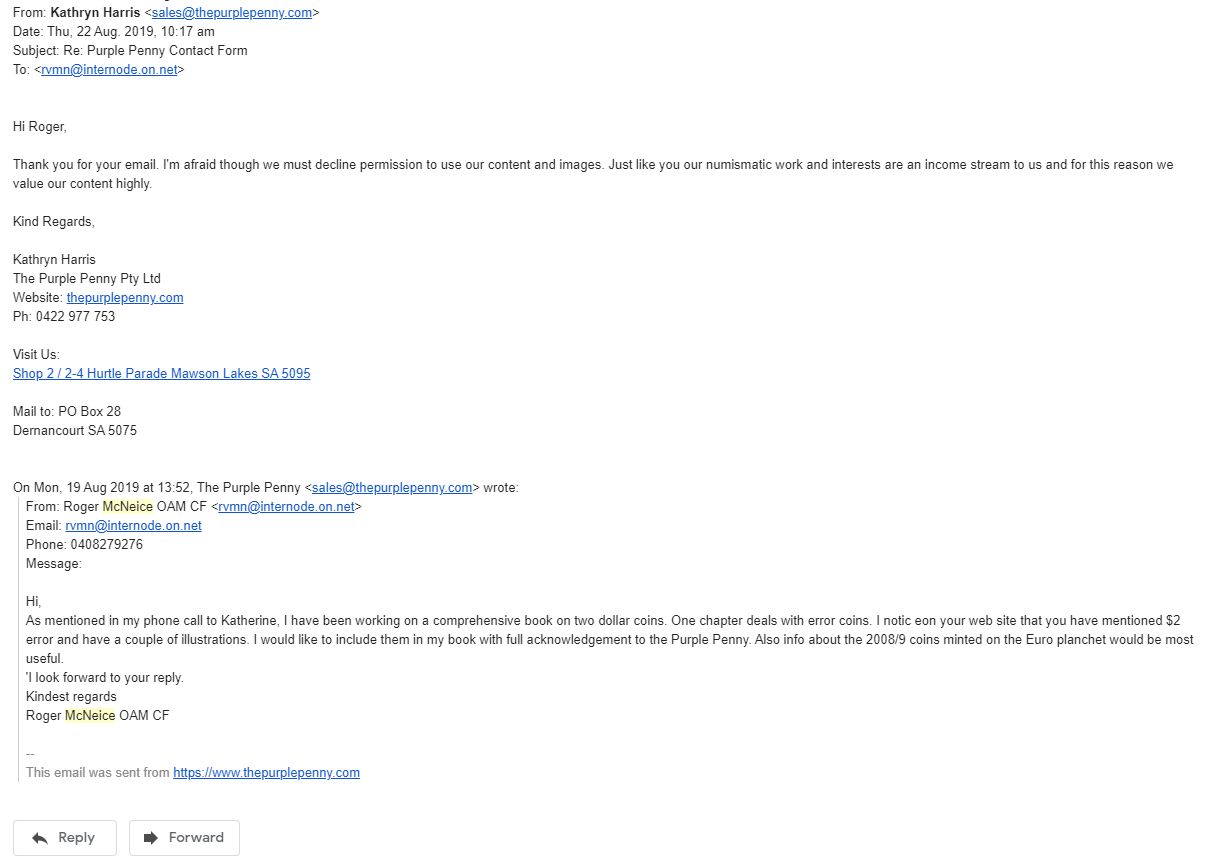 A recently published book on the Australian $2 coin called the The $2 Coin Book has included the unauthorised use of images from this website. On 22 August 2019 the following email was received from book author Roger McNeice addressed to Blog Author, Kathryn Harris:
From: Roger McNeice OAM CF
Email: rvmn@internode.on.net
Phone: 0408279276
Message:

Hi,
As mentioned in my phone call to Katherine, I have been working on a comprehensive book on two dollar coins. One chapter deals with error coins. I notic eon your web site that you have mentioned $2 error and have a couple of illustrations. I would like to include them in my book with full acknowledgement to the Purple Penny. Also info about the 2008/9 coins minted on the Euro planchet would be most useful.
'I look forward to your reply.
Kindest regards
Roger McNeice OAM CF
This was responded to on 22 August 2019 with:
From: Kathryn Harris
Date: Thu, 22 Aug. 2019, 10:17 am
Subject: Re: Purple Penny Contact Form
To:

Hi Roger,

Thank you for your email. I'm afraid though we must decline permission to use our content and images. Just like you our numismatic work and interests are an income stream to us and for this reason we value our content highly.

Kind Regards,

Kathryn Harris
The Purple Penny Pty Ltd
Website: thepurplepenny.com
Ph: 0422 977 753

Visit Us:
Shop 2 / 2-4 Hurtle Parade Mawson Lakes SA 5095

Mail to: PO Box 28
Dernancourt SA 5075
Below is a screenshot of the email exchange from Gmail, you can click on the image to enlarge it. Note that the original email can be forwarded to anyone who wants to examine it's authenticity.
When The $2 Coin Book was published by Roger McNeice in December 2020 / January 2021 we were informed by others that it contained images with the watermark seen on most images on this website. We purchased a copy of the book and below are the details of images used without permission of the authors of this website.
The image above is used in the top half of page 35 of the book. It clearly shows the watermarked copyright of this website at the bottom right. The image is mis-attributed to IAG Auctions. This coin resides in our current collection and was not purchased from IAG Auctions.
The image above is used in the bottom of page 35 of the book. It clearly shows the watermarked copyright of this website at the bottom right. The image is mis-attributed to Google. While the image may appear on Google's Image Search results Google does not own the copyright of images shown in Google Image Search. Ownership of copyright of images on Google Image Search is clearly explained here.
The two images above are used on the bottom of page 36 of the book. The lower right image clearly shows the watermarked copyright of this website at the bottom right. The image is mis-attributed to the South Australian Numismatic Society. There is no such organisation. However, the image can be found on the Numismatic Society of South Australia's website here. That image includes our copyright watermark as we retain ownship of the copyright of that image. As members of the Numismatic Society of South Australia we do, from time to time, give them permission to use our images on their website, as in this case. However that does not allow them to grant use of the images to other parties. We are not suggesting that the Numismatic Society of South Australia has done anything wrong here, we are suggesting that the author of The $2 Coin Book has assumed permission to use an image from a body that cannot give that permission.
Permission to use Images from this Site in "The $2 Coin Book" by Roger McNeice
Roger McNeice does not have permission to use images from this site or any other website that we own in his current, past, or future publications. Use of the images in current and past publications contravenes directly what he was told in the email shown earlier in this article. Details on obtaining permission to use images on this website can clearly be seen in the right hand side "Site Links" box on the page :Using the Images from this Site.
Addendum – 26/03/2021
Below are screenshots of comments made by Roger McNeice in a Facebook post on or about 25/03/2021. The initial subject of the Facebook post by Mr. McNeice concerned someone copying and distributing The $2 Coin Book via PDF format. After this blog entry was posted someone added a comment to the older Facebook post linking readers to this blog entry. The screenshots below are posted as the Facebook post has now been removed/deleted. The Facebook post in question was in the Australian $2 Coin Collectors group.